Company History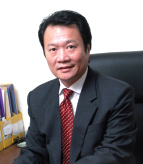 Established: Jan 1986
Current Staff: 132
Office Space: 17,502 square feet
Warehouse Space: 49,869 square feet
Customer Portfolios: 10,000 (MNCs, SMEs, Hospitals, Banks, Financial Institutions, Restaurants, Cafés)
Distribution Network: 60-strong fleet of vehicles.
With enhancements and improvements over the years, Kumpulan has gained a major foothold in market presence as the most preferred single source supply service provider. We have proven ourselves with our expertise in a number of sectors with reputation for quality, reliability and excellent service.
Founder's Vision: To Be The Most Preferred Service Provider For Office Supplies.